Wanted - Pirate Captain to Purchase Partially Restored Sailing Yacht Royal Charles
Partially Restored Sailing Vessel for Sale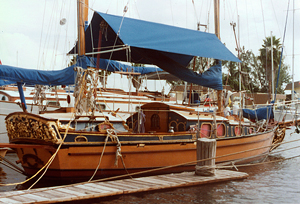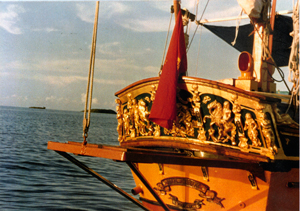 The photographs above display what Royal Charles looked like before her restoration was initiated.  Today this sailing yawl, built in the style of King Charles II of England's royal yacht, is half-way through her restoration and in dry dock in Sebastian, Florida.
Her current owner is putting her up for sale for a short time only. This is a once-in-a-lifetime opportunity to complete the project and be captain of this fine royal yacht when she sails again. Please read through to the end to get an idea as to the incredible amount of work and resources that have gone into her restoration so far. Scroll down for updated photographs.
To make an appointment to speak to the owner concerning this sailing vessel for sale,  please use our contact information page and we will have the owner, Fred Banke, get in touch with you.
History:
1976 – 2010
Originally a steel sloop built in Holland, she was a very ordinary, under-canvased vessel (for use in the higher winds encountered in the northern seas).
She was then completely redesigned as a replica of a seventeenth century royal yacht, complete with high relief gold leafed carvings and scroll work over much of her 26 foot length. A stern cabin and seventeenth century bow were added, equally adorned with all manner of sculpture. The sail area was increased by the addition of a bowsprit and a mizzen mast, increasing her sail area to 560 feet (from 160 feet). An inboard diesel engine was installed, and she was fitted with automatic steering.
During one yard period, she was completely sand-blasted, coated with epoxy red-lead, then coated with coal tar epoxy followed by fouling paint.
For thirty years she proudly sailed in south Florida waters, from the Bahamas, to Key West, spending much of her time, however, in Biscayne Bay.
2010-2015:
Mostly docked under cover, moored for a short period of time.
2015-Present
New owner. A lot of work to be done.
The stern cabin, bulkheads, keel and cockpit bulwarks have been disposed
A sturdy trailer was obtained and altered to accept her hull.
She is currently in dry dock on that trailer where she is being worked on. Sebastian, Florida.
Her beautiful sculptures have been removed, reconditioned, and stored. The hull has been thoroughly stripped and sand blasted and primed with "Rust No More" corrosion conversion marine primer. Areas of rust have been removed and replaced by five sheets of 1/8th" thick Corten steel that have been welded on.
The stern has been modified, steel plates extending her headroom.
Additionally:
New tires and wheels on the trailer
Two new water tanks
New fuel tank
New head
BMW D7 diesel engine
Both masts are viable, although the main mast has some rotted wood at the bottom which can be removed.
Plans – an outboard profile showing what the ship will look like upon completion
Needs new rigging and sails
Has new fabric to be used on the interior
Bronze fittings