HMS Royal Charles, a Visit from the King
Tall Ship Prints
HMS Royal Charles Fine Art Print
$150.00
Royal Navy's HMS Royal Charles is portrayed moored in the Solent during a visit from the King. Individually printed digital reproduction on art paper.
Royal Navy's HMS Royal Charles is portrayed moored in the Solent during a visit from the King. Individually printed digital reproduction on art paper.
Back to Shop
Description
This fine art paper digital reproduction of an original painting by James A Flood is professionally manufactured in the United States of America. Artwork is printed at time of order.
Signed by the artist
Paper size is 20″ height x 24″ width
Image size is 16″ height x 20″ width
Royal Navy's HMS Royal Charles
Completed in Portsmouth, England, 1673, during the second Dutch War, HMS Royal Charles was the second built in a trio of 100-gun first-rate ships designed and constructed by Sir Anthony Deane. Structurally almost identical to the first built of the three 100-gun ships (HMS Royal James), Royal Charles was nonetheless strikingly different in her outward appearance.
The new ship introduced elegant rows of windows and projecting galleries, a trend that would be carried into the design of future ships. The look was likely inspired from the French fleet, whose artful style impressed King Charles II. A king who loved ships for their beauty as well as their functionality, Charles II was known to go so far as to contribute personal funding towards their construction.
The most dramatical change lay in the design of the figurehead. Gone was the standard single-entity sculpture and in its place was an ornately decorated high relief grouping. It depicted a helmeted warrior charging bravely into battle, his chariot drawn by two racing horses. At his side stood the driver and an armed escort. Intricately carved, baroque in detail, it heralded a new age of art in shipbuilding.
In this painting by James Flood, Royal Navy's HMS Royal Charles is portrayed moored in the Solent. King Charles II and his royal entourage are paying his favorite flagship a  formal visit.
The Many Lives of HMS Royal Charles
HMS Royal Charles (1673) (originally named Naseby) was built to replace the first Royal Charles (1655), which was captured by the Dutch in 1667 and for a brief time on display in the Netherlands for visitors to tour. This of course was very upsetting for the British. To best relieve the situation King Charles II ordered a new build in 1771. Named HMS Royal Charles, she joined the Royal Navy in 1773. It was the same year that her predecessor was scrapped by the Dutch Navy
.
A swift and elegant vessel, she far outdid her precursor. The first Royal Charles, although exceptionally fast, was initially plagued by an issue not uncommon to a new build ship of the line. Her heavy armament encouraged a deep roll that interfered with cannon operations in the lower decks. Ballast adjustment proved unsuccessful, and it wasn't until later that girdling, which increased her beam, apparently abated the stability issue.
The second Royal Charles, in all her incarnations, had a service life that spanned nearly an entire century. Modified in 1693, she was renamed HMS Queen. Later, in 1715, her salvaged parts were used to build HMS Royal George. In 1756 she was renamed HMS Royal Anne.  Finally, in 1767, after having served for nearly a century, she appears to have been broken up for good.
The Sailboat that Wanted to be Royal Charles
The artist was so entranced by the beauty of the original Royal Charles, that he spent years working on his own version. He carefully sculpted, molded, then gold-leafed renditions of the detailed sculptures and secured them to his  sailboat. The sailboat itself he redesigned to best reflect the style of King Charles II's ship. For many years she was a frequent sight to behold in Biscayne Bay. Today finds her passed on to her new owner (Fred Banke) in Sebastian, Florida where, much like her predecessor, she is undergoing major renovations. The sculptures have been removed and reserved.  They will be placed back on her along with some new ones being currently created by the artist.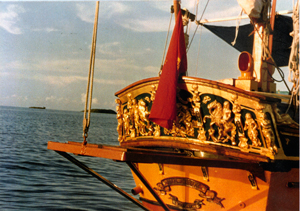 Early photograph of the transom of the artist's sailboat, Royal Charles