Titanic Arriving at Chelsea Piers, 'What If' #1
RMS Titanic Arriving at Chelsea Piers
$50.00
This fine art paper digital reproduction print of an original painting by James A Flood is professionally manufactured in the United States of America. Artwork is printed at time of order.
Signed by the artist
Paper size is 18″ height x 24″ width
Image size is 15″ height x 22″ width
In this visionary depiction, RMS Titanic arriving at Chelsea Piers, the ship comes in at New York Harbor, White Star Line, Pier 59 following a successful maiden voyage. It is the morning of April 17th, 1912.
Here Titanic does not sink into the Atlantic; indeed, she makes it to New York on Tuesday, nearly a day ahead of schedule, spends the evening at anchor for Customs, and heads for her berth early Wednesday morning.
The ageless crowd gathers in anticipation for the return of a world that perhaps never was; the rounded curves of living horses, the opulent glory of carriages, the classic (and since destroyed) pier architecture – all come together to be part of the day that should have been.
This is the first in the series of 'What If' paintings by James A Flood. For the purpose of delivering the artist's intended message, some details of this setting have been altered from what might actually have appeared. For instance, the wall (which at the time connected Chelsea piers 59 and 60) has been removed to better reveal the ship.

Below is an enlarged detail from the crowd in the painting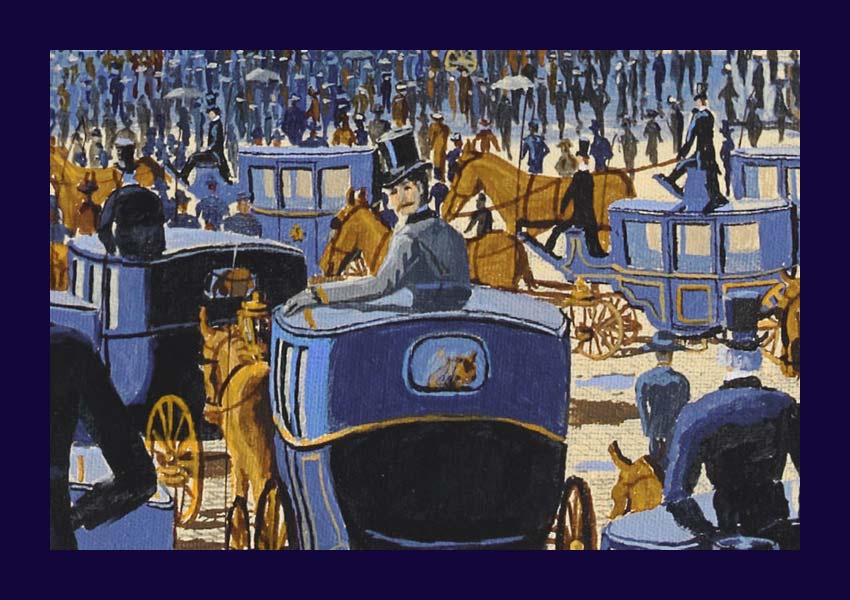 View the 2nd RMS Titanic What IF by James Flood
The artist displaying reproduction of Titanic Arriving at Chelsea Piers while on board ms Balmoral during the Titanic Memorial Cruise of 2012