SS United States Departing New York Harbor
Prints are now available! Thank you for your patience.
Until this item has been added to our cart, please contact us by phone, email, or contact form with your contact information and we will call to arrange an order for you. We accept credit card information by phone or fax only.
Your artwork is an 18 x 24 inch art paper digital reproduction printed on demand on fine art paper, open edition, assigned a recorded ID number, signed by the artist and accompanied by a stamped and signed artist's certificate of authenticity. 
Price is $75.00 plus $12.50 shipping.  Price includes a $10.00 donation to the SS United States Conservancy.
SS United States Background
SS United States was built in 1952 by Newport News Shipbuilding & Drydock Company, Newport News, Virginia.  She was 990 feet long, 101 feet wide, and carried a  weight displacement of 53,329 tons. Her steam turbine, quadruple screw engines ran at a service speed of 33 knots. This finely engineered ship was never pushed beyond ¾ power. However, rumor has it that she achieved the incredible speed of 48 knots on her trial run. The results, both those under cover (literally – a paper bag over the pitometer log) and those made public, document a speed record that remains unbroken to this day. She is, indeed, the last ocean liner to capture and hold the coveted Blue Riband.
Engineers used the most advanced technology of the time, making SS United States was the fastest ocean liner ever built.  She emerged from post war America a masterpiece and was a twentieth century ambassador of American spirit and innovation.
In this painting, SS United States is portrayed departing New York Harbor in the early years of her career, the historic towers of downtown Manhattan looming in the background, her vast hull gleaming in the late afternoon sun. Pictured in the foreground is the artist and his wife, moved backward in time to the 1950's and motoring by in their hand crafted launch Duchess, paying homage to the great liner as they wave and take photographs.
View painting of SS United States at Sea
Organization dedicated to saving this historical American ship: SS United States Conservancy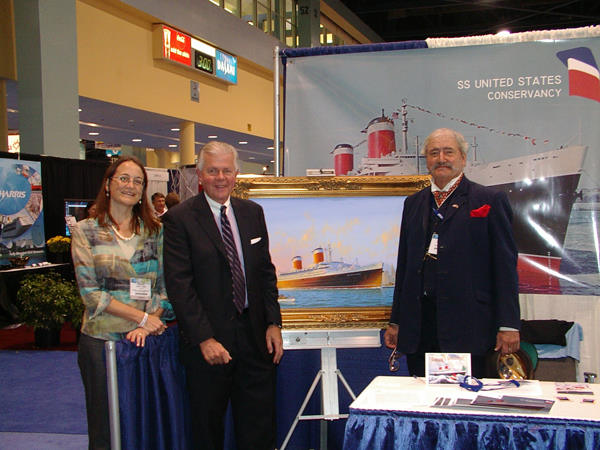 SS United States Conservancy board president Susan Gibbs and treasurer Greg Norris with maritime artist James A Flood standing in front of the new painting SS United States Departing New York Harbor.